---
"Fuck the law", 2020
Acrylic and gesso on salvaged cotton




Modern policing depends on public support and faith in the justice system to be effective. Overpolicing, brutality, and a lack of accountability has eroded trust in U.S.A police - especially among minorities - leading to what experts call a "legitimacy crisis". Derek Chauvin, who knelt on George Floyd's neck earlier this year, had 18 prior complaints against him. And it's common for police officers fired for misconduct to be re-hired by another force - like the officer who fatally shot 12-year-old Tamir Rice in 2014.


---
"Skipping rope", 2020
Acrylic on cardboard and plastic skipping rope




Slavery was abolished – except as a punishment for crime. In 2018, black Americans made up a third of the prison population, while only representing 12% of the U.S.A's total adult population. Black Americans are also about five times as likely as white Americans to say they've been unfairly stopped by police because of their race or ethnicity. Under this kind of scrutiny, you can't put a foot wrong.


---
"See-through America", 2020
Pen on paper



A portrait of a working-class American. As the gender and racial diversity of the American working class has grown, the Industrial-era archetype of the white, male factory worker has become outdated. As more women and people of colour have joined the working class, their marginalised status has made it easier to overlook and devalue their work.

---
Alright kids, let's talk about gun control!
Acrylic and gesso on salvaged cotton


More than 36,000 people have died as a result of gun violence in the U.S.A this year alone - that's more than 100 people a day, on average. This year, the U.S.A recorded its first March without a school shooting since 2002 - most schools were closed because of the pandemic. Meanwhile, gun sales are at a historic high.


---
Chair, 2020
Acrylic and gesso on salvaged cotton


This year, a ruling from the Supreme Court cleared the way for the U.S.A's first federal execution in 17 years. So far, 15 citizens have been executed by state and federal governments in 2020. One – Nicholas Sutton, in Tennessee – chose to die by electrocution, in light of mounting evidence that the anaesthetic midazolam, used in some lethal injections, does not block sensation during execution.

---
"Koktajl Mołotowa", 2020
Coca Cola bottle, water, cotton rag, tape

---
"White America", 2020
Acrylic and gesso on hessian canvas



This clean white canvas was 'Made in America', but what was it built on? What's the foundation? Can you see the black hessian beneath, tightly stretched on the wooden frame? I hope you do.


---

"Wasn't me", 2020
Acrylic and gesso on salvaged cotton

---
"Amusement park", 2020
Acrylic and gesso on salvaged cotton
---
"Handcuffs", 2020
Acrylic and gesso on salvaged cotton



100% genuine American irons.


---
"Plastic coffin", 2020
Acrylic and gesso on salvaged cotton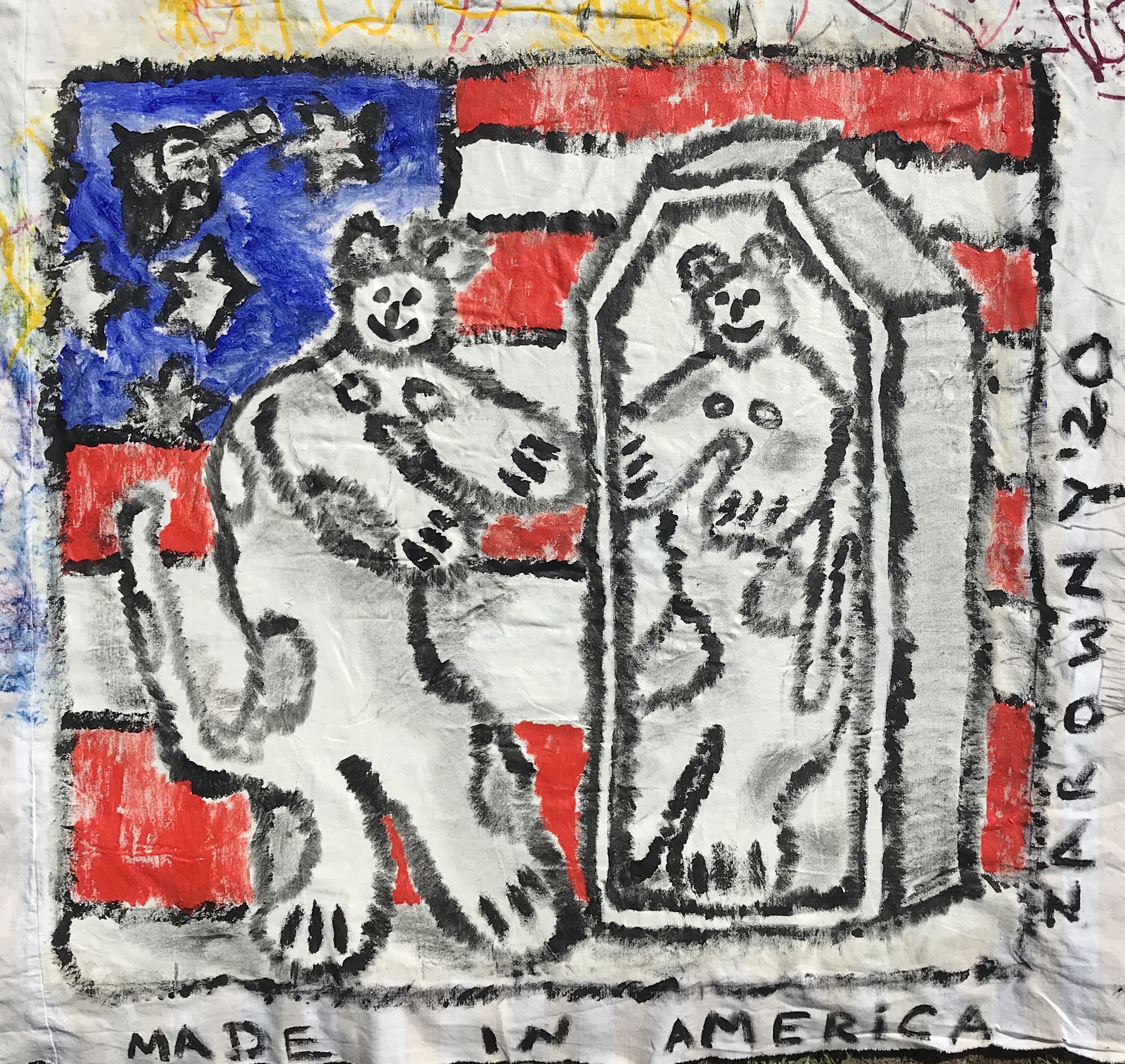 ---
"Black and White America", 2020
Acrylic and gesso on salvaged cotton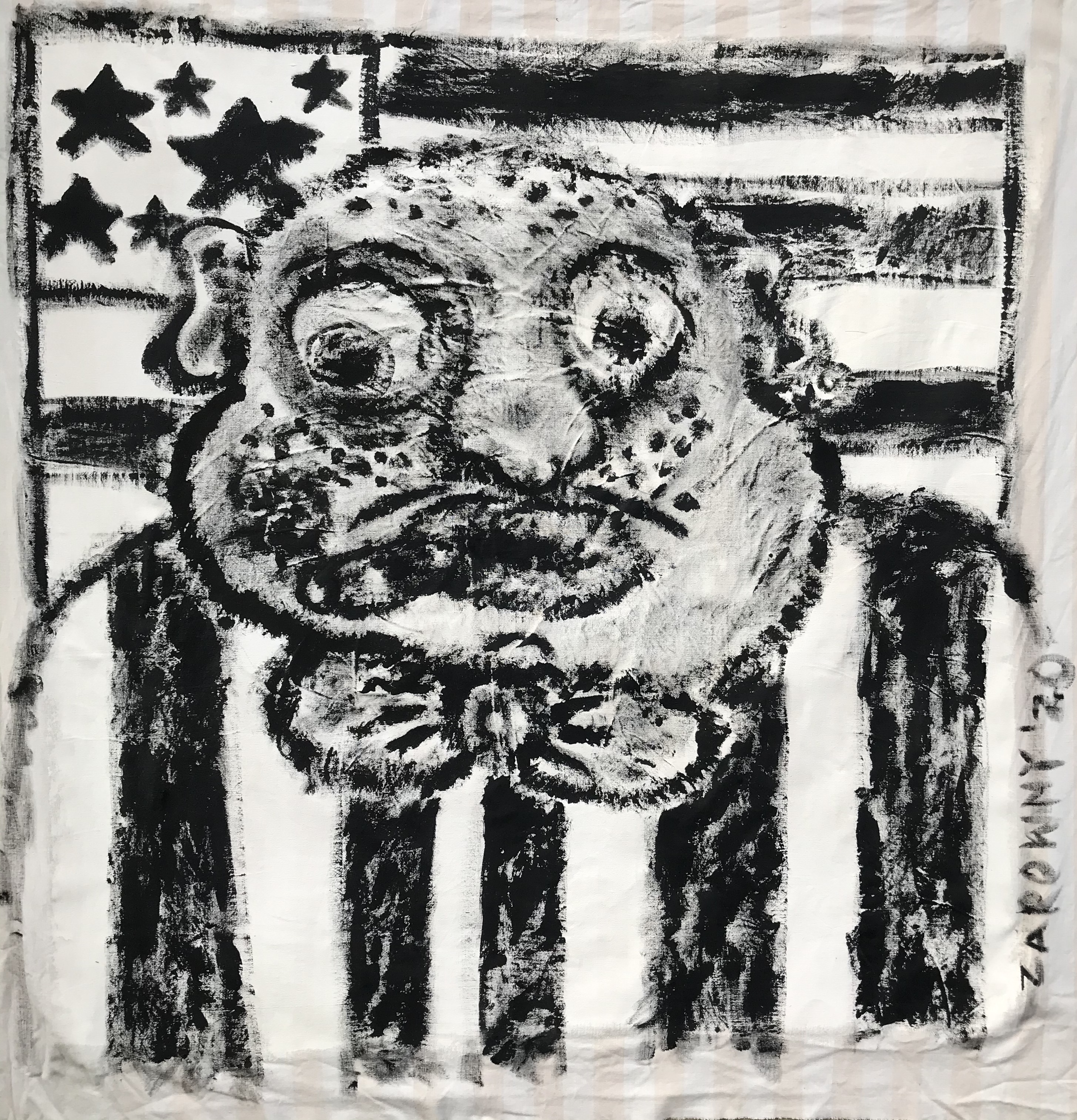 ---
"Woman in chains", 2020
Acrylic and gesso on salvaged cotton

---
"Crowd control - Smoke Granade", 2020
White clay, plastic, acrylic and spray paint
---
"Made in U.S.A.", 2020
Acrylic and gesso on salvaged cotton